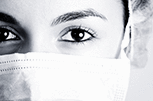 Nurse Educator is a small company serving the Waterloo Region and surrounding area. It was founded in 2015 by Liz Callaghan, a Nurse Practitioner that is passionate about continuing education. She started this company to network with other healthcare professionals and entrepreneurs that share her passion. 
Together, we offer Canadian Red Cross Standard First Aid & CPR courses, advanced practice courses for Nurse Practitioners & Mask Fit Testing. 
Our goal is to deliver high quality, student-centered education and training from experienced healthcare professionals.