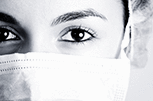 COVID-19 Update
---
Dear Valued Customer, 
COVID-19, and the efforts to contain its spread, have placed us in the midst of an unprecedented event in our communities, country and world. As you are aware, we offer small group Mask Fit Testing from our home office locations.  
We have made the decision that, on the one hand, is very difficult, and on the other, very obvious. We have decided to cancel all Mask Fit Testing group sessions from March 16, 2020 until August 1, 2020.  

We see these cancellations as our way of playing a role in slowing the spread of this illness.  
Thank you for your continued patience as we navigate this rapidly evolving situation. We'll work in partnership with public health units and industry leaders to make decisions that make the most sense for us and for our community.
Thank you for understanding.
Regards, 
Nurse Educator